By Rachel Varrilly Gierula – Career Coach
So long 2020. It was the oddest of years in so many ways. Our lives changed beyond recognition and many of the changes were unexpected and abrupt. Since last March, I've spoken to many clients and contacts who've had to radically change the way they work; or have lost roles and found themselves in an uncertain job market.
Finding yourself out of work unexpectedly can be a strange experience. Even if you don't miss the job, you may be feeling a lack of sense of purpose. Feelings of rejection or a grief-like emotion being parted from your colleagues – your work family, are normal. Losing a job where the circumstances are out of your control, for example redundancy, is rarely personal, but it can feel like it.
What we value and what is important to us has been challenged massively in 2020. If you are still in the same role you may find yourself rethinking how you want to work and what you want to do next. Is this a time to branch out and find the new-career-you?
If you are looking for a new role, how do you find the right one? Has the market changed since you were last looking for work? Are there more or less roles in the sector you are interested in? Are there more or less people looking for this type of work? Are your skills up to date?
And that's a lot of questions! But focused questions, as any coach will tell you, are a good place to start, if you're feeling a little stuck; or have a mental block in taking the first step towards something new.
There's a really simple business tool that I used with a coaching client a few weeks ago. The client had mentioned it earlier in the session, so already familiar with the concept, it was an easy step for her to repurpose it to help prepare for a board presentation – the tool structure helped her to identify the key points and prepare for any tricky challenges. It's called SWOT Analysis, you may be familiar with it too, it's been around for years, and can be used to generate thinking on any set of circumstances, problem statement or idea.
So here's a SWOT Analysis to prompt your career next step thinking. I've added in some questions to help you get started and slightly altered the usual headers to get the right focus. You'll need pen and paper, and 30 minutes to complete the exercise. Find somewhere that you are unlikely to be disturbed and switch your tech off – this is thinking time, something we so rarely give ourselves.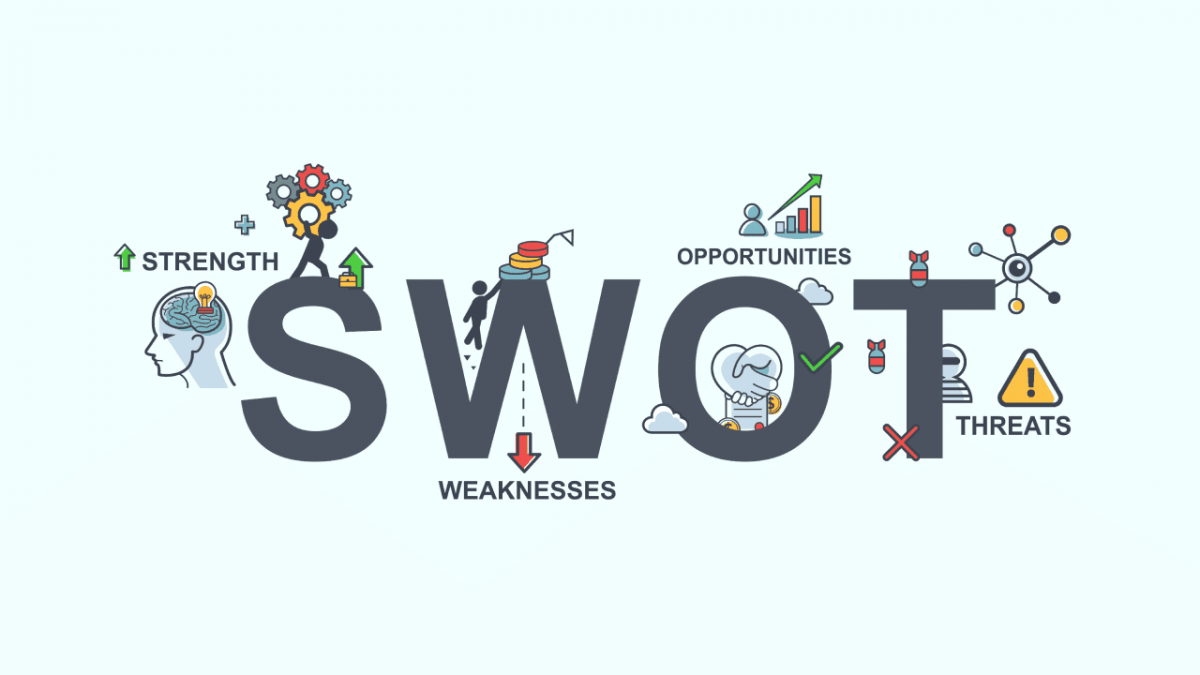 How to complete it:
Step 1 – draw a 4 box grid and add in the headers: 1 – Strengths; 2 – Weaknesses or Threats; 3 – Opportunities; 4 – Next steps.
Step 2 – complete boxes 1 – 3. The exercise is about you, so the first question you're asking yourself is 'what are my strengths'. Use the prompt questions in the grid below to get you started; consider each question and capture your thoughts in the grid. Your thinking may generate additional questions, perhaps you'll need a bigger sheet of paper!
Step 3 – make a commitment to action in box 4. Start by reading through what you have written in boxes 1 – 3. What have you identified about your career self from the exercise; are there any repeated themes; any surprises? What action does it prompt you to take first? Aim for quick wins to begin with; things you can do to see immediate results, then longer-term goals. Time box the actions – 'when will I do this by?'. Remember, positive steps lead to positive outcomes.
Happy thinking – we'd love to hear how you found the exercise.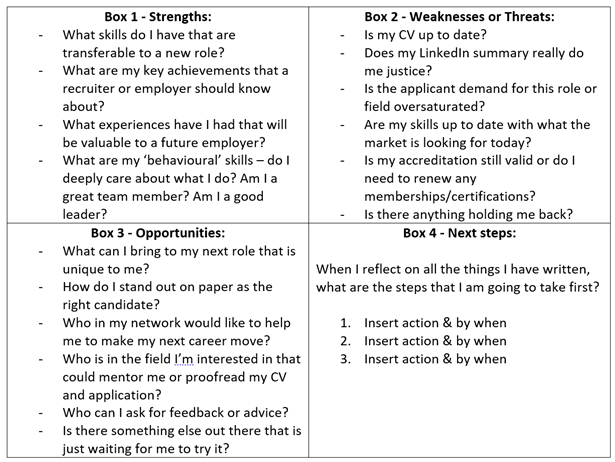 Our Career Coach is Rachel Varrilly Gierula, if you'd like 1:1 career development support, or interested in talking about business coaching for your team, contact her at LinkedIn.
For a full list of all our current vacancies, visit us as JS Recruitment.